Lisa and Alan Hall welcome you to Sea Vu, the only park with direct access to the sandy beaches of Guichen Bay!
Sea Vu –
Your Home Away from Home!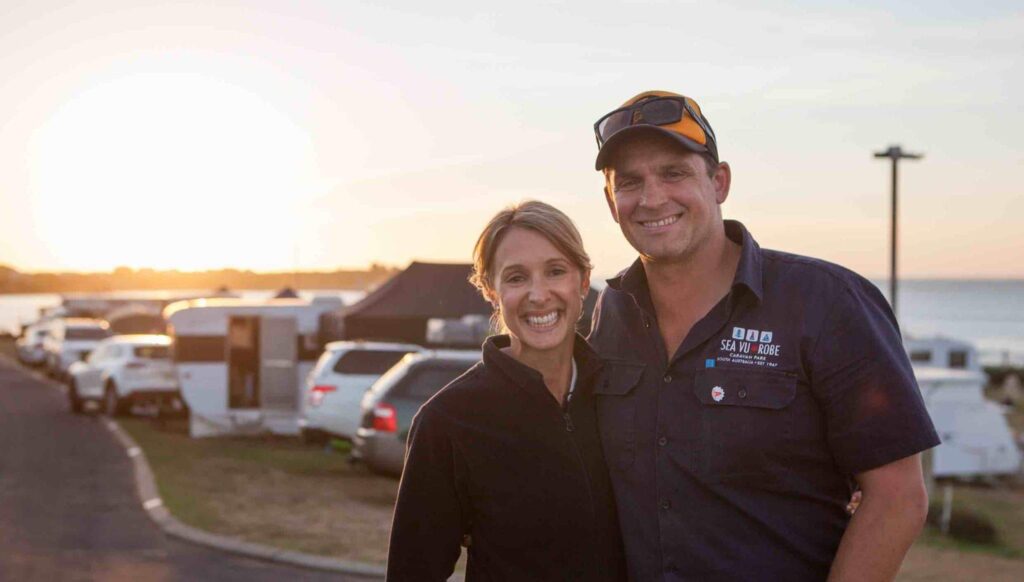 We're nestled in the heart of the beautiful township of Robe, which is situated on South Australia's magnificent Limestone Coast. Enjoy spectacular beach views or take a short walk to local shops, restaurants, wineries and a host of other things to see and do.
Get a real sense of how close you'll be to everything when you book your next holiday at Sea Vu Caravan Park.
The magnificent beaches, rugged coastline and beautiful interior… all waiting for you to explore!
Given our unique location, with the thriving town centre on one side and magnificent beach frontage on the other, the Park is more compact than our bigger, commercial counterparts. And while we have a variety of sites available to suit most van and vehicle combinations, we strongly recommend you phone ahead so we can discuss your specific requirements.
We make a point of calling in to Robe every year on our way to Adelaide and beyond simply because we love the aspect of the Sea Vu Caravan Park and its unspoiled surroundings. One of the great pleasures of this Caravan Park is the unobstructed views from the sites to the town and the sea. We do not wish this replaced with a view of a fence and walkway/bike track.
DJ "Doc" Casey
I have been a regular yearly, or more often, holiday visitor to Robe for over fifty four years. My family and I love our holidays at Robe and are now into the 4th generation of our family to stay there. We enjoy the pristine beauty and unspoilt area of a lovely beachside town. We walk regularly from Town Beach to Long Beach on the beaches
Glenda & Russell Crouch
Recently my husband and I stayed at the Sea Vu Caravan Park and were very impressed with the presentation. Waking up in the morning and having such a wonderful view of the coastline was very relaxing and breathtaking. We have stayed at a number of parks throughout Australia and Sea Vu is amongst the top of our list for best parks to stay.
Marie Prunty
As a family We have been staying at Sea Vu for about 10 years with extended family and friends. Our particular sites 7 and 8 are unpowered and right on the beach front. We book from year to year to enjoy this piece of paradise and have jokingly told our children this site booking will be their inheritance, thats how much our family loves it.
Heather Say
Our family and friends have been coming to stay at Sea-Vu Caravan Park for over 30 years in sites 6, 7 and 8. We all look forward to our holiday in Robe. We now have three generations of each family who come along and our camping holidays in Robe are part of our family traditions.
Alle & Lynton Goldsworthy
Sea Vu is our family's favourite caravan park in all Australia, not just Robe. We have been visiting since 1992 first with our children, and now with our Grand Children and we want to bring our Great Grand Children there. We alway choose the unpowered sites near the beach to enjoy the natural sand dunes and the view over the pristine bay.
The Leinfelder Family
we have been visitors at your Park for several years. There are many reasons we come back to Robe. We always look forward to getting a site up near the front when we get the opportunity. It's great to sit at our site and watch the ocean during our stay.
Adonis & Sophie Andonopoulos
We always loved staying at your caravan park. The sites, amenities, access to the beach, proximity to town and professional and efficient way in which you run the park were the reasons we returned for so many years.
Malcolm & Diane Eastwood
One of the major reasons we choose to return to Robe each year and stay at Sea Vu Caravan Park is the park's stunning views, natural location and simple beach access.
Susan Nobes
One of the joys of coming to Robe, to Sea Vu, and staying on site 44 is the easy access to the town, both beaches, enjoying the views, and that wonderful , currently unspoilt walk to the drain , and onto Long Beach, and being able to walk to town or the beaches. Sea Vu's location and pitches are quite unique, and very special . Which is why we return every year, as do many people.
Liz and Carl Fitzgibbon
We stayed in a cabin in January and had the best time with five other families who have been coming to Sea Vu every January for quite a number of years. Every day we were able to walk into town for breakfast, bakery lunches, dinner at the hotels and restaurants, the ice-cream shop and just go for a walk. This is one of the appeals of staying here, as we don't need to drive the car.
Sarah Johnstone
Over the past 35 years my wife and I have been a guest at this park at least a dozen times. In earlier years with the children and more recently my wife and I. Our children now visit your park with their children.
Bob & Lizzy Brown
In October 2015 we did a caravan trip from Qld to SA via Broken Hill returning along the Great Ocean Road and up the Pacific Hwy back to Brisbane. We stayed at many lovely caravan parks along the way but none better than the Sea Vu Caravan Park at Robe. The park and the view were outstanding
Ron & Karen Dent